FASTENER COMPANY INTEGRATES WEBSITE WITH CATALOG, CAD, PRODUCT CONFIGURATOR, SHOPPING CART & ERP SYSTEM
CHALLENGE
Pivot Point, a manufacturer of stock and specialty fasteners,wanted to replace their online catalog. Their goal? a catalog completely integrated with their website, shopping cart and ERP software. They also wanted to generate more RFQ's for their custom fastener solutions. Revenue growth a created the need for a revised employment marketing strategy as well.
SOLUTION
Marketing Metrics Corp. created a best-in-class technology platform that included a searchable catalog, product configurator, 3D CAD, and shopping cart with customized shipping and billing options and ERP integration. Ongoing digital marketing efforts generated quality leads and ultimately new business sales. Seven employment related pages were recently added to the website to assist with recruiting and hiring.
RESULTS
Pivot Point saw significant gains in organic traffic, custom and stock e-Commerce orders. The integrated/cart/ERP system reduced duplicate keying costs, order entry errors, and returns. The employment marketing campaign helped recruit new employees in a very tight labor market.
Advanced Catalog
In addition to viewing and purchasing standard products, today's B2B buyers and specifiers want to also configure custom products and download them into their CAD software.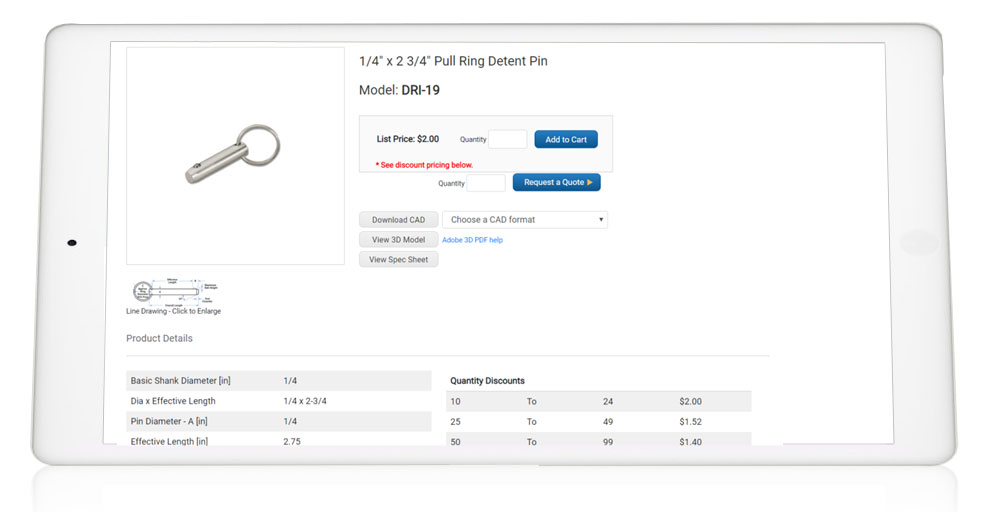 Shopping cart with ERP Integration
We automated order submissions from the shopping cart into their ERP system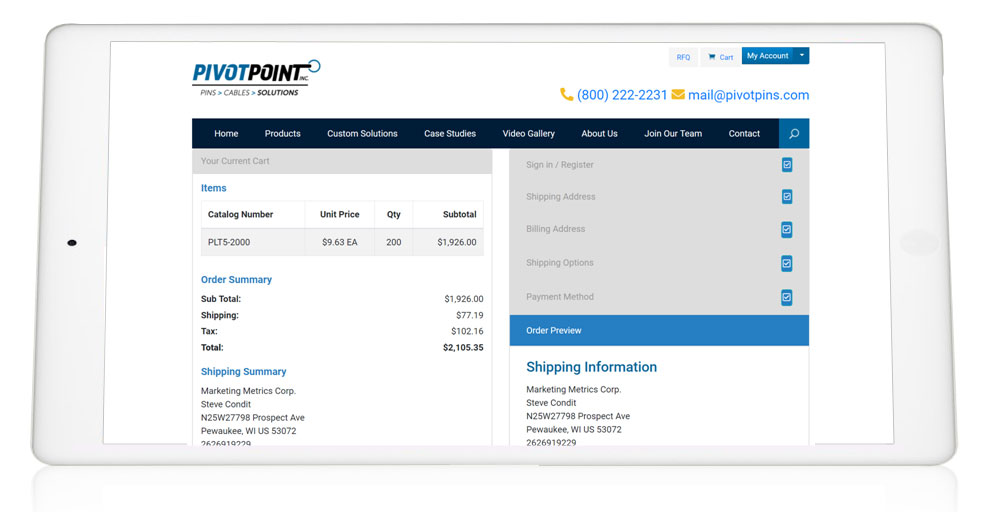 Digital Marketing
"The PPC ad generated a new customer who has an open order with us for a high volume of custom clevis pins, in addition to a few smaller stock clevis pin orders since finding us in September 2018. They are a textbook example of an OEM who found us as a new supplier, downloaded CAD models of custom and stock clevis pins, submitted their "Build your own" model for quote and placed first time orders. It's what we like to see."
Jordan Jaeger
Inside/Outside Sales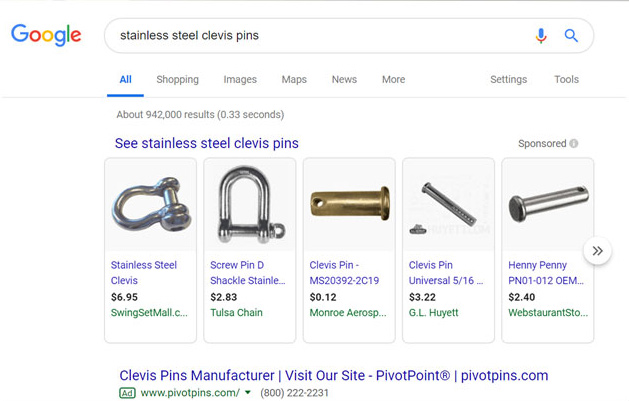 Results
Why Our Clients Love Us
"Marketing Metrics Corp. developed an on-going digital marketing strategy for us that helped us to bring in new business, increase our market visibility and grow our top-line revenue."
Dave Zimmerman
President
Pivot Point, Inc.
Gains in E-commerce revenue, conversions, transactions and avg, order.
Gains in custom RFQ's
Gains in employment