ROBOTICS AUTOMATION COMPANY
DIVERSIFIES CLIENT BASE
CHALLENGE
ACRO Automation Systems Inc. provides customized, robotic automation solutions to companies throughout the world. The outdated website didn't clearly illustrate ACRO's strengths, wasn't easily found on Google and wasn't generating quality leads in new vertical markets.
SOLUTION
ACRO relied on MMC's marketing expertise in manufacturing to help with several areas: website design, content writing, SEO, paid search, public relations, and social media activity. ACRO also wanted resulting leads to automatedly flow into their CRM system.
RESULTS
With an optimized website and traffic generated through MMC's tactics, ACRO received 137 RFQ's and is quoting 16+ large automaton projects with new customers. The most exciting result? A deal with a new customer worth more than $850,000 in revenue – a direct result of MMC's ongoing inbound marketing efforts.
Website Design
Marketing Metrics Corp. did a great job updating our website. Our site finally tells the real ACRO story complete with case studies and video testimonials as well as links to key social media sites like LinkedIn and Facebook. Clearly one of Marketing Metrics best attributes is their ability to develop, implement and monitor a corporate marketing plan.

— Jeffrey J. Weinberger
Vice President of Finance and Administration, ACRO Automation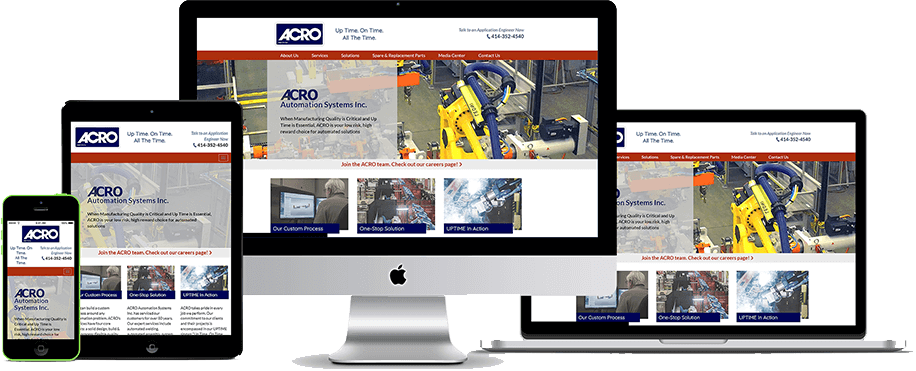 Content Marketing
Strong content fuels lead generation. Content that connects with customers will draw them to your site, nurture them throughout the sales cycle, and capture contact information. You'll build credibility and trust while giving potential (and current) customers details they need to make an informed purchase decision.The Marketing Metrics team collaborates with clients to write valuable content. We structure content delivery for maximum business-building impact.
Content can come in many forms – not just text-based web pages. Image and video content are also important and additional ways for users to interact with your brand. Pairing content like a blog or case study with a related video or image deepens the user's understanding of your company. By combining text, image and video content on your site, a multimedia content marketing strategy can take your brand and elevate it above other competitors on the web.

Results
Why Our Clients Love Us
The $850,000 new order was the result of an online inquiry generated through sophisticated, proven digital marketing techniques executed by MMC. "Our company has made strong efforts to leverage the power of the Internet and we are very pleased with the steady results delivered by our digital marketing agency, Marketing Metrics Corp. We look forward to many more new customers coming forward to work with us after their online interactions with our brand.
Mike Loomis
President, ACRO Automation
137 RFQ's

Actively quoting 16+ prospects

Sold two new clients, with one worth $850,000+