How To Include Promotional Products During A Webinar, Digital Event Or Virtual Trade Show
Posted On: April 10, 2020 by Steve Condit
Physical events like seminars, user conferences, training conferences, town halls and trade shows have been cancelled to prevent the spread of the Coronavirus COVID-19 pandemic. News reports say that trade show cancellations, rescheduling of events and work-from-home requirements is causing business revenues and profits to plummet globally.  In the absence of opportunities to meet with new and existing customers through the physical events, marketing and sales executives and event planners are under immense pressure to find new ways to stay connected.  Reality has set in and now we have a challenge that we need to overcome.  What happens when you lose your audience and can't get anyone to come to your physical event?   Can you still have an event strategy? The answer is "yes" but you need to change physical events to digital events.
What is the process for including promotional products during a Webinar, Digital Event or Virtual Trade Show?
You can still offer promotional products and apparel during and after digital events.
Pre-event planning: The pre-digital event planning process is exactly the same as a physical event such as discussing the type of event (seminar/roadshow, user conference, trade show, training conference, partner summit, town hall or internal event), event goals, target market, number of attendees, budget, timeline, etc.
Promotional item(s): Based on our pre-event planning session, we will recommend the perfect promotional products for your target market.  The promotional item(s) will be purchased by you, the "event" host, and will be decorated with your logo/brand information.
Digital Store: We will create a digital order form showcasing your branded apparel or promotional products. If you choose to offer branded apparel, the attendee will be able order exact sizes, colors and even personalize it with their name.During the checkout process, they will add their shipping information.
Below is an example of an online order form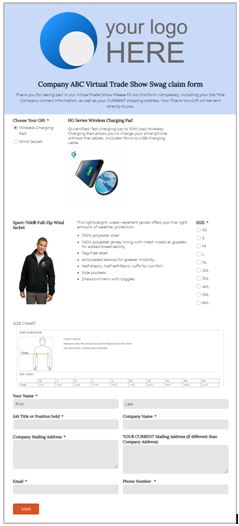 Free swag: Once a client/prospect has "attended" your event, they can click on the "thank you for attending" link and will be directed to your "thank you" store/order form.  You can offer everyone the same gift and simply have them fill out the info sheet or you can allow them to choose from two or more items.
Close Date:On a predetermined "close date"such as two weeks after the event, the store is closed and a comprehensive spreadsheet will be sent to you with all of the attendees' contact, order and shipping info.
Shipping options:The items will be bulk shipped to you for distribution to all of the event attendees. We recommend that the event host does this so they can track "attendees" and if anything is returned it goes back to the event host. However, for a minimal handling and shipping fee, the promotional items can be shipped directly to the attendee.
What are the benefits for including promotional products during and after a digital event?
Like a properly designed physical event, a properly designed and produced digital event creates a positive user experience, helps communicate your brand and convinces participants to become customers. You can still have a great "experience" (connected, human, engaging) with a digital event.  Ways to make it more engaging: Social media, Q&A with polls, free swag, great content, special handouts, CTA's integrated into webinar.
About Marketing Metrics Corp and HALO Branded Solutions
Marketing Metrics Corp. teamed up with HALO Branded Solutions, one of the largest promotional products distributors in the U.S.  HALO Branded Solutions has been an industry leader for over six decades by combining award-winning creativity, world-class customer service, and a guarantee of complete satisfaction.  As a HALO sales representative, we provide expertise in integrated marketing solutions that feature creative and cost-effective dimensional marketing products.
We deliver global product sourcing and distribution, online and traditional marketing support, company stores and incentive programs, art services and design creation and warehousing and fulfillment services — all with exceptional speed to help drive the hectic pace of your promotional efforts.
Promotional products are powerful marketing tools. They are useful, long-lasting and appreciated by the recipient. Put HALO's creative expertise and product integrity to work for you on your next promotion. Over 40,000 clients nationwide trust HALO to share their brand vision with customers, employees and prospects. Make a lasting impression at a virtual event, trade show, demonstrate support for a fundraiser and attract new clients. Whatever your objective, we will work with you to power your brand —on-time, under budget, and beyond expectations—with every order.